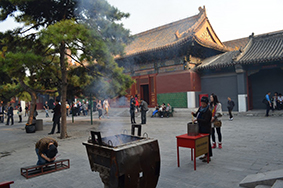 Het verre Oosten in het Westen
Uitzending Gemist:  http://gemi.st/VPWON_1193234
The Far East in the West (60')
In 2012 a quiet revolution took place at the Free University (VU) in Amsterdam. A new discipline was established in the former academic stronghold of the protestant church: Buddhist philosophy. Zen Buddhist André van der Braak was appointed as the first professor. Pat van Boeckel followed him during his first steps on his new path.
That path leads immediately to the Far East, as Van der Braak, on behalf of the VU, travels to China, for an exchange with the Renmin University of Beijing. Cycling through Beijing he witnesses the revival of Chinese Buddhism, having been under pressure from the Communist regime between 1949 and the 1908s.
Broadcasted on Dutch public TV (BOS).