Een meester in Moskou
Zenmeester Ton Lathouwers heeft zijn fascinatie voor Rusland nooit onder stoelen of banken gestoken. Ook binnen zijn zen-beoefening blijft de Russische literatuur en religie hem inspireren. Voor het eerst sinds bijna vijftig jaar keert hij terug naar het land. De reis voert langs plekken en mensen die een belangrijke rol speelden in zijn visie op zen en spiritualiteit. Naarmate de reis vordert komen we steeds dichter op de huid van deze onorthodoxe zenleraar.
A Sense of urgency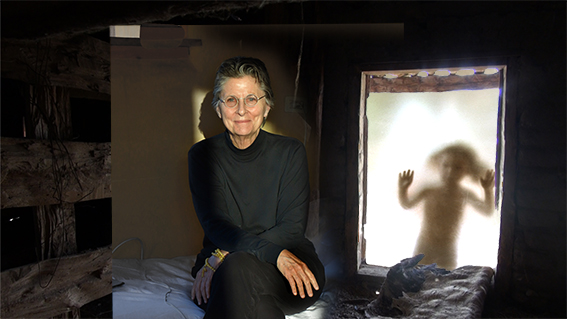 English version
Joan Jiko Halifax (1942) is an American Zen Buddhist teacher, anthropologist, human rights activist, author and terminal care worker. She is a driving force of socially engaged Buddhism in the world. Besides running the Upaya Zen Center in New Mexico, a community she opened in 1990, she spent more than forty years working with the dying, helping them through the final phase.
Joan started out an inward journey when she was struck by a temporary blindness when she was four years old. The illness isolated her for two years from the visible world, but it opened a way to her inner self. Metaphoric travels intertwine with real ones throughout her life. Travelling through the Sahara as a young anthropologist changed her life as much as being with traumatised dying people. She studied with key figures such as Thich Nhat Hahn, Zen master San Su Nim and Bernie Glassman and was ordained in 1997 in the Zen Peacemaker Order. She often speaks out for a female phase of Buddhism. Her work on death row in maximum security prisons coincides with Joan's sense of urgency.
Joan Halifax is een van de meest bekende en geliefde spirituele zenleraren in de wereld. Ze is de zeventig gepasseerd maar voortdurend onderweg, zowel fysiek als spiritueel. Het onderweg zijn levert haar de ervaringen die aan de basis liggen van haar geëngageerd Boeddhisme: het leven onvoorwaardelijke aandacht geven. Onderweg zijn betekent continu in het moment leven. In de film reizen we met haar mee en zien onderweg hoe in ieder moment de grootste contrasten van het leven in elkaar overvloeien.Minder